Ruddi's Retreat has launched a fun sponsored walk families can do anytime they want in the coming months to help the families of seriously ill or disabled children.
Ruddi's Ramble is a brilliant 3-mile walk along the Huddersfield Narrow Canal towpath from Marsden to Slaithwaite.
All families have to do is sign up for our £15 family pack which includes 20 fun questions for children to do during the ramble, a voucher for a free T-shirt, other goodies and a sponsor form and when you've done the walk simply pop into Ruddi's café in the centre of Slaithwaite for a free cupcake and have your photo taken for our Ruddi's Ramble Hall of Fame.
Go to www.ruddisretreat.org/ruddisramble to find out more and buy your family fundraising pack. 
If people want more than one T-shirt they cost £7.50 each.
People are urged to get as many sponsors as they can before setting out on their ramble. The route is accessible for pushchairs and wheelchairs.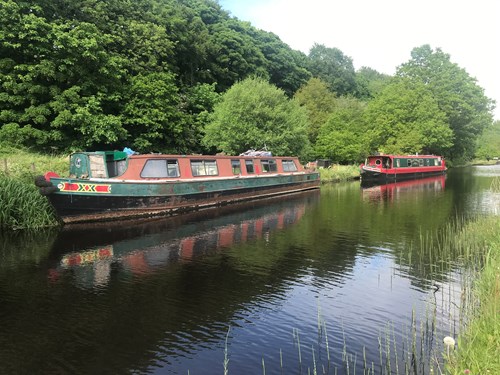 If people can't do the 3-mile ramble in Huddersfield – perhaps they live away – they can do their own route anywhere they want.
Ruddi's Retreat provides free caravan breaks for families with children battling serious illnesses such as cancer, have life-limiting conditions or have suffered bereavement.
When families suddenly face this kind of crisis they are often hit hard financially and so can't afford a holiday or the logistics of perhaps having a child in a wheelchair or needing oxygen make it impossible. One of the caravans has been specially adapted for wheelchairs and special medical needs.
The four caravans are on the Primrose Valley Holiday Park near Filey and demand is so high with around 200 families helped each year they now need a fifth caravan and they are fundraising to buy one for £50,000 which is why as many people as possible do Ruddi's Ramble. This new caravan will probably go on the west coast near Blackpool.
The campaign has already received £5,000 from the charity's patron, Sarah, Duchess of York, but now wants families to rally around and do the ramble to help other families facing traumatic times in their lives. The hope is to raise all the money by the end of the year.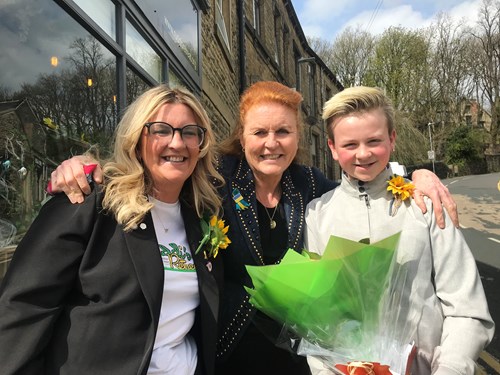 Ruddi's Retreat founder Ali Waterworth ((pictured above with the Duchess of York and Ruddi) said: "We wanted to do a big event and then thought why not set something up that families can do whenever they want.
"The 3-mile walk along the canal is breathtaking – everyone should do it – so we thought we'd use that as the route. There is so much to see along the way such as herons and ducks and our quiz will certainly keep the children entertained searching for answers to the questions."
Here is why Ruddi's Retreat is so important.
Going on holiday is a logistical nightmare for Noah McNeill's family. The 10-year-old from Birkby has a serious lung condition which means he has a permanent tracheostomy to keep his airway open and at night needs to be on a ventilator and sometimes even oxygen.
This means he needs 24-hour care with someone awake with him all night.
Ideally this is a carer but Noah's parents Jill and Colin often have to step in and share the shifts.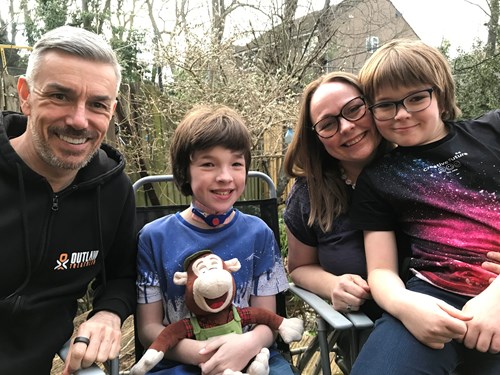 Noah McNeill (second left) with dad Colin, mum Jill and younger brother Oscar
Going on holiday means they need to take a vanload of kit – almost like a portable intensive care unit – including the ventilator, two large oxygen machines, a suction machine and a SATS monitor.
Jill said: "If we are also taking a carer it's like taking two families which is very expensive. Ali understands how important it is to have a break and the charity is giving families the chance to have some peaceful family time. It's hard to put into words how important this is.
"Ruddi's Retreat puts smiles on the faces of people whose lives can be exceptionally hard and unrelenting. Without Ruddi's we would probably never have gone away."
For more information on #ruddisramble go to http://www.ruddisretreat.org/ruddisramble
To get a £15 family pack for Ruddi's Ramble simply pop into Ruddi's café and shop in the centre of Slaithwaite, phone Ali on 01484 766050 or email ruddisretreat@gmail.com