A group of intrepid cyclists have done a 150-mile bike ride in just ONE day coast to coast to raise thousands of pounds for Ruddi's Retreat.
But they did it the hard way as the rode 94 miles to Fleetwood in Lancashire on a Friday, then did the 150-miler riding across the country to Filey on the Saturday before riding back to Huddersfield on the Sunday.
That last leg was 88 miles against a strong headwind all the way. In just three days they'd cycled 330 miles.
Oh, and the youngest of the group is 49 and the oldest 62. Their superhuman efforts have already brought in £4,500 for Ruddi's Retreat and the team's JustGiving page is still open for donations at www.justgiving.com/Michael-Greig16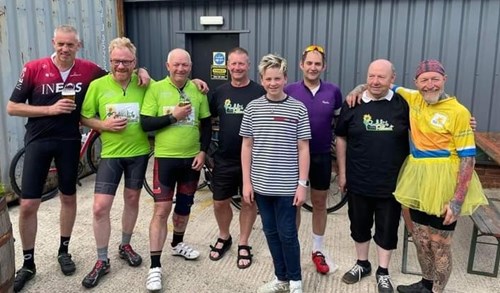 Ruddi Waterworth-Jones (centre) pictured with the coast to coast riders (from left) Andrew Austin Scott, Lee Riley, Mick Greig, Gary Charlesworth, Steve Bowman, Barry Simmons and Mark Cunningham
Ruddi's Retreat provides free caravan breaks for families with children battling serious illnesses such as cancer, have life-limiting conditions or have suffered bereavement.
When families suddenly face this kind of crisis they are often hit hard financially and so can't afford a holiday or the logistics of perhaps having a child in a wheelchair or needing oxygen make it impossible. One of the caravans has been specially adapted for wheelchairs and special medical needs.
The four caravans are on the Primrose Valley Holiday Park near Filey and demand is so high with around 200 families helped each year the charity now needs a fifth caravan and they are fundraising to buy one for £50,000. This one will probably go on the west coast near Blackpool – and as the cyclists are raising money for this appeal they thought they'd do the coast-to-coast marathon.
The campaign has already received £5,000 from the charity's patron, Sarah, Duchess of York.
The epic cycle ride was organised by 53-year-old Mick Greig from Almondbury and joining him were Lee Riley and Andrew Austin Scott from Outlane, Gary Charlesworth from Scapegoat Hill, David Fisher from Denby Dale, Steve Bowman from Huddersfield and Ian Gledhill from York.
Support driver was Barry Simmons from Sheepridge and Mark Cunningham from Bradford who also rode part of the route. Mark was raising money for Marie Curie Hospice in Bradford but also donated £500 to Ruddi's.
All the riders have tackled several of Huddersfield Town's Pedal for Pounds fundraising bike rides.
Mick said: "Ruddi's Retreat was one of Pedal for Pound's chosen charities in the past and we've taken a keen interest in the charity ever since then. I love everything they do to help families in need at the toughest times in their lives. The caravan holidays are an absolute Godsend for families and if we can send a few more families there by doing this mammoth bike ride then so much the better.
"It's amazing we've raised just over £4,500 so far, especially in such challenging economic times. I think people are generous because they know we're so daft to try to do something like this."
All the routes were on B roads so the riders have faced some tough terrain including more hills than they'd care to count and windswept moorland.
They had a couple of punctures and then a pedal snapped off near Tadcaster but a cycle shop in the town called Cyclesense fixed it for free when they discovered it was a charity bike ride. 
Mick added: "Only three of us had ever cycled more than 110 miles in a day before so it was massively out of our comfort zone to do 150, so much so that we were all quite overwhelmed when we made it."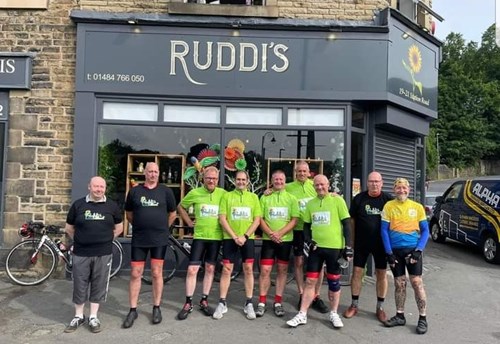 The set off at 6am from Fleetwood and arrived in Filey at 8.30pm.
The support vehicle, a Ford Transit van, was donated for the weekend by Clapham Commercials in York.
Energy bars, chocolate bars and other snacks were donated by discount food and drink retailer Approved Food in Dodworth, Barnsley, which is owned by Skelmanthorpe man Andy Needham.
Mick said: "Andy is the most generous fella going and always helps us out when we are doing charity challenges like this."
Drinks were provided by Shepley Spring.
Coach company York Pullman, based in York, donated £200.
Anyone wanting to fundraise for the Ruddi's Retreat appeal should call 01484 766050 or email ruddisretreat@gmail.com and they will help to get you publicity for what you're doing.