Sign up for Ruddis Ramble
This summer, we are asking you to take part in our family-friendly 3 mile 'Ruddi's Ramble' to raise £50,000 for a new caravan.
To sign up it's just £15 per family with every penny going to the new appeal to help families going through a tough time to make precious memories.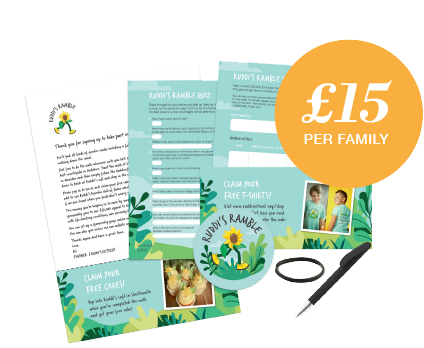 What you get:
You'll recieve a family fundraising pack:

Free T-shirt voucher
Walk information*
Walk quiz*
Ruddi's Retreat Pen
Ruddi's Wrist Band
Sponsor form
Free cake voucher
Donation information
Sticker (because everyone loves a sticker!)
ORDER YOUR FAMILY FUNDRAISING PACK
* Walk information and quiz is only applicable to Yorkshire walkers. If you live in another part of the country you can choose any 3 mile walk local to you to take part.
What is Ruddis Ramble?
Ruddi's Ramble is a fantastic 3-mile family ramble raising money for Ruddi's Retreat. We wanted absolutely anybody to be able to take part, so the ramble can be any 3-mile walk near you.
Just order your fundraising pack here to take part. You'll recieve a sponsor form and a voucher for a free T-shirt, if you live locally, you'll get information on the Marsden to Slaithwaite route a quiz to keep the family entertained along the way and even a voucher for a free Ruddi's Ramble cake at Ruddi's cafe after the walk!
It's just 3 miles from Marsden to Slaithwaite so ideal for families, pushchairs and wheelchairs. Our friend Pete Lau has completed the route in his wheelchair and written about it on his website, so if you want to know the details of the route from his perspective. Check out his website at www.accessiblenatureuk.com You'll see so much wildlife, there are cafés and bars right next to the canal and we have a brilliant quiz (included in your fundraising pack) for children to do along the way.
You can complete your walk at any time to suit you this summer so sign up today to enjoy a family day out and help Ruddi's Retreat to buy a £50,000 caravan so families who have children with life-limiting conditions, are seriously ill or have suffered bereavement can go on holiday.
Without Ruddi's they would have no chance to get away to make some special memories.
SPONSORS

What your support means
Going on holiday is a logistical nightmare for Noah McNeill's family. The 10-year-old from Birkby has a serious lung condition which means he has a permanent tracheostomy to keep his airway open and at night needs to be on a ventilator and sometimes even oxygen.
This means he needs 24-hour care with someone awake with him all night.
Ideally this is a carer but Noah's parents Jill and Colin often have to step in and share the wakeful shifts.
Going on holiday means they need to take a vanload of kit – almost like a portable intensive care unit – including the ventilator, two large oxygen machines, a suction machine and a SATS monitor.
Jill said: "Life is just so regimented and pressured when you have a child with disabilities, so often ruled by sorting out care and medical appointments. It's just great to get away and not have to do that. Ruddi's gives us a chance to step off that treadmill."
Taking part in Ruddi's Ramble will help us to raise £50,000 to buy another caravan to help even more families like Noah's. Please sign up today and get your family fundraising pack. You can order it online to be posted or you can pop into Ruddi's cafe in Slaithwaite and buy a pack. Thank you.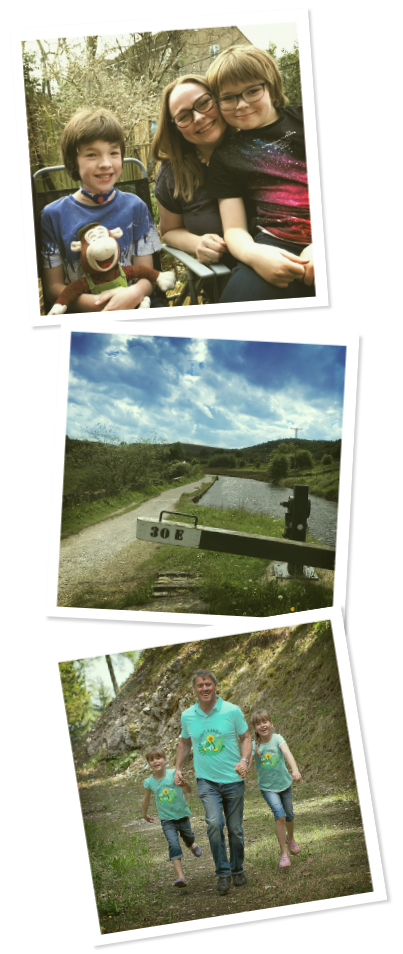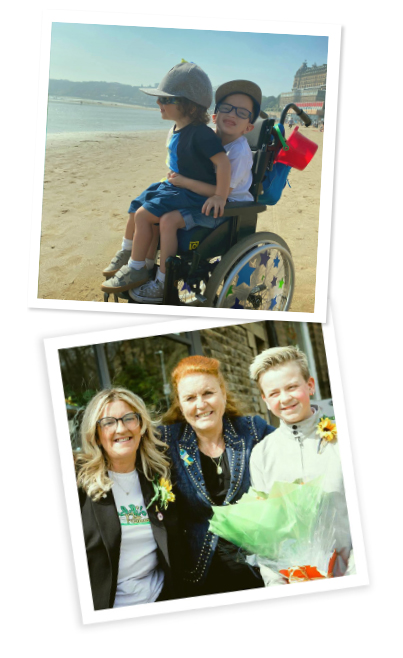 What is Ruddi's Retreat?
Ruddi's Retreat gives holidays to families affected by cancer and life-limiting illnesses.
Charities tend to stop their support at the end of active treatment, but the problems don't end there. Families like Ruddi's lose everything. Ruddi's mum, Ali lost her job and understands how cancer can affect families financially. A treat like a week away is at the bottom of the list and feels impossible. Ruddi's Retreat makes that light of hope shine through, helping families create happy memories, even at the darkest times.
More than 750 families in Calderdale and Kirklees affected by cancer. We started off with one caravan 10 years ago, helping 30 families a year to create precious memories. We are now proud of our 4 caravans which help over 100 families a year, but we want to do more. We know there are more families who could benefit from a holiday and during our 10th year we will be raising £50,000 to buy our 5th caravan to help them.
Please give what you can
If you can't take part in Ruddi's Ramble, then please consider a donation today. Every penny means so much to us. We can't thank you enough for supporting our work, but on behalf of all the families we help, thank you from the bottom of our hearts.